Course in Urban Morphology (2019/20)
THE AGGREGATION PROCESS AND THE FORM OF THE FABRIC
G. Strappa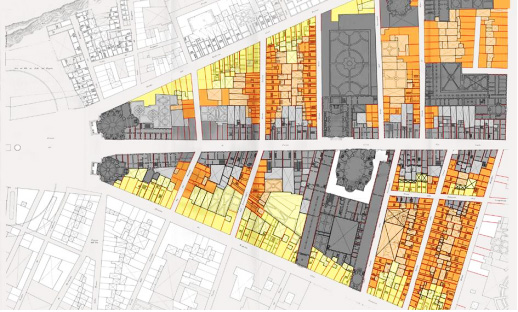 The form of the Italian city produced in the Middle Age, often derived from the consumption of decayed ancient  urban organisms, expresses the solidarity between housing units that join together to form higher-level organisms.
This organic character, which binds in one unit different components (the route, the building, the pertinent area) in a "society of houses" is certainly the shared heritage of a building and urban custom that was born in the Roman world and is, in turn, linked to a cultural koinè that belongs to the Mediterranean masonry -plastic world. Tacitus had clearly focused on this subject by noting, by difference, the "serial" character of Germanic settlements: "Vicos locant non in nostrum morem conexis et coherentibus aedificiis: suam quisque domum spatio circumdat, sive adversus casus ignis remedium sive inscitia aedificandi" (1). The type of housing at the origin of most of the formative processes of the Italian cities developed starting from the XIII-XIV century is above all the row-house, declined in different local variants in the whole peninsula, from the Venetian types that translate into masonry building organisms originated from wooden courtyard  matrices, to the markedly plastic examples of central and southern Italy.
This type of dwelling, which communicates through its own forms the predisposition of the single building to collaboration and aggregation, is remarkably constant, It is identifiable in its transformations process, within the different cultural areas, both in the bicellular type (to which reference will mostly be made), and in the monocellular one derived from the consumption of the courtyard house (pseudo row-house)…….
To continue reading, click here