Nota sulle morfologie urbane transizionali come critica agli studi urbani in ambito cinese. La mappa tipologica di Hehua Tang a Nanchino
Note on the transitional urban morphologies
as a criticism of urban studies
in the chinese context. The typological
map on Nanjing Hehua Tang
U+D n.14 – 2021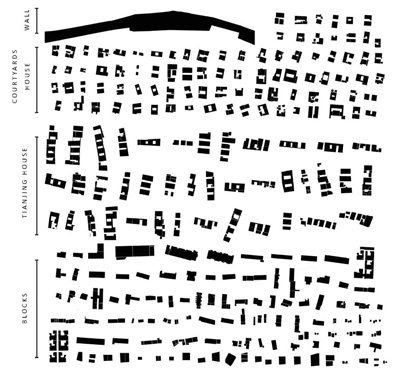 Le città cinesi di oggi non sembrano paragonabili, nelle loro strade e nei loro edifici, con le città cinesi ancora esperibili nella prima metà del secolo XX, con i caratteri morfologici di lunga durata derivati dalla storia e chiaramente riconoscibili. La Nanchino di oggi, per come viene descritta nel romanzo di ZHU Wen Se non è amore vero, allora è spazzatura (什么 是 拉圾 ,什么 是 爱, 2004), è così lontana dalla Nanchino descritta da YE Zhaoyan in Nanchino 1937. Una storia d'amore (一九 三 七年 的 爱情, 1996), per non parlare della perdita oggi di quel senso degli spazi urbani e dei luoghi privati che si può ancora trovare leggendo le lettere di My Lady of the Chinese Courtyard, il romanzo epistolare di Elizabeth Cooper ambientato nel Jiangsu del 1914, o tuffandosi letteralmente nelle pagine caleidoscopiche del monumentale romanzo Il sogno della camera rossa (红楼梦), scritto secondo la tradizione da CAO Xueqin a metà XVIII secolo.
In effetti, l'esercizio di una più attenta comprensione delle transizioni di una città, dal carattere urbano che era proprio dei secoli delle dinastie Ming e Qing al carattere di una città ridisegnata durante la breve Repubblica Cinese, poi trasformato ancora nel carattere di una città sottoposta ai processi di modernizzazione durante il "balzo in avanti" sino alla metamorfosi ormai compiuta
nella metropoli complessa e "smart" dell'Asia di oggi, può essere utile per comprendere il terreno di gioco sul quale stanno decidendo il futuro di una città come Nanchino progettisti, urbanisti e stakeholders.